Archive for June, 2021
by Randee King on Jun.20, 2021, under Association News
Drive by the corner of Lakewood Drive at Bayway Drive and you'll see the new entrance sign to the Lakewood subdivision. It looks fantastic!
The Lakewood Civic Association (LCA) was selected to receive a grant from the City of Baytown to install this second neighborhood sign along with landscaping to replace the old sign that was destroyed when a vehicle hit it.
This project demonstrates the great teamwork we have in Lakewood. The new property owner gave us permission to have the sign at that location, the sign and landscaping was completed with all volunteer labor from Sea Scouts Ship 208, LCA members and others in the neighborhood, the LCA will maintain the sign and the Lakewood Garden Club will maintain the landscaping.
Constructing the sign has so many details that three Sea Scouts oversaw parts of it to help earn their Quartermaster award. Alex Primeaux was in charge of clearing the area and setting the foundation, Luke Clayburg was responsible for the sign casting and flagstone, and Kera Adamson coordinated the landscaping and watering system.
Special thanks to Randy Dickey for designing the sign as well as working on every aspect of this project, Spencer Carnes for his pro bono engineering work to show the sign meets City wind load requirements, Bobby Bonds for his assistance with every phase of the project, Ken Martin and Randee King for help running water lines and border, Frank McKay for the installing the lighting, and the City of Baytown for this grant money.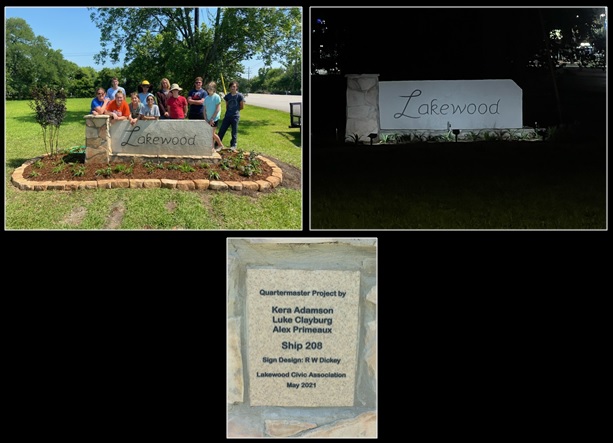 Leave a Comment
more...
by Lakewood on Jun.08, 2021, under Garden Club News
Leave a Comment
more...