Archive for January, 2023
by Randee King on Jan.13, 2023, under Association News
Please help us congratulate Lynda Nelson as the latest recipient of the Lakewood Good Neighbor Award. Lynda is well known in Lakewood for organizing fun games for children during Neighborhood Night Out and the Summer Kick-off Parties, hosting driveway movie nights with snacks during Christmas, and most recently organizing a food drive (at which she and hubby, Byron, were Santa and Mrs. Claus) in conjunction with the first-ever Holiday "golf cart" Parade through Lakewood. We thank Lynda for being a very kind and caring person and being such a good Lakewood Neighbor.
Lynda also received a $50 gift certificate from the LCA.
If you wish to recommend someone for this quarterly award, please submit your request via the form at https://lakewoodcivic.org/?page_id=2404
Left to right in photo: Randee King, Lynda Nelson, Joy Huntington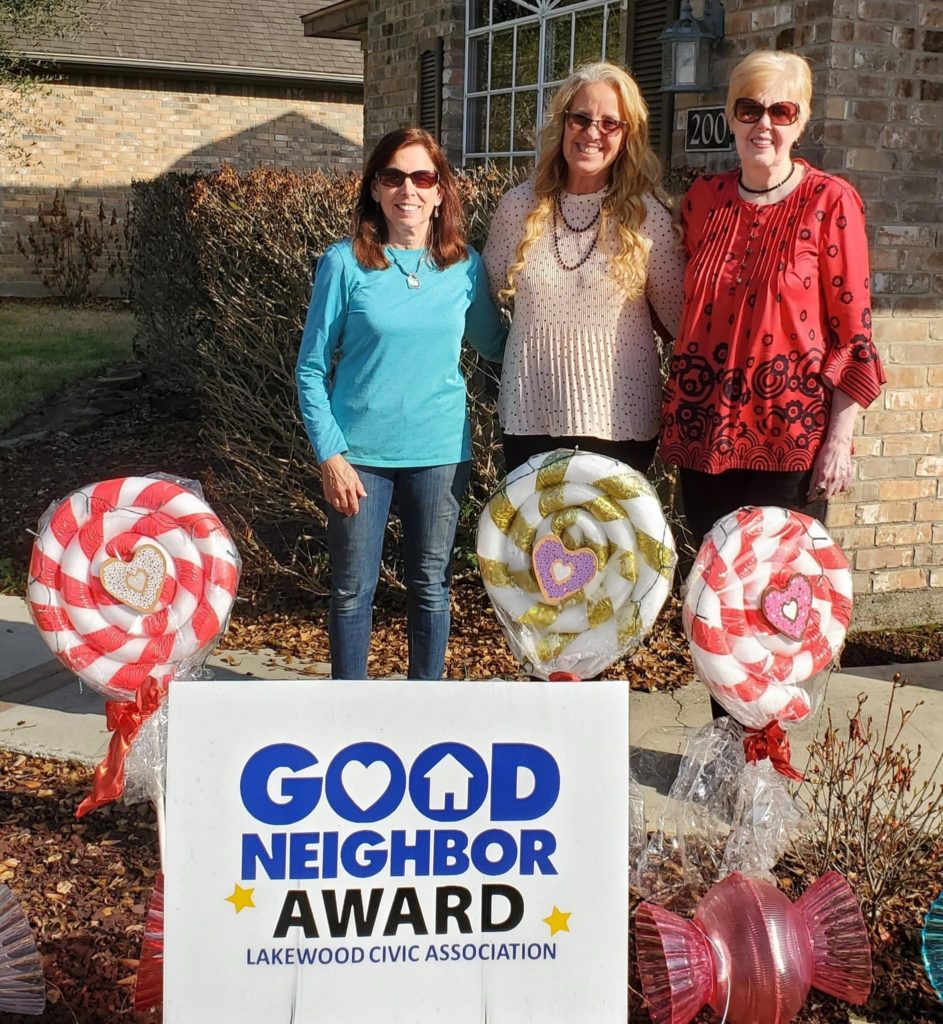 Leave a Comment
more...
by Randee King on Jan.02, 2023, under Association News
ARE YOU INTERESTED IN GETTING MORE INVOLVED WITH OUR NEIGHBORHOOD?
If so, please consider running for the Lakewood Civic Association Board.
It's that time again where we encourage people to express interest in serving on the Lakewood Civic Association Board of Directors. The LCA was started in the 1940s to maintain Lakewood as a wonderful place to live. The LCA is a voluntary organization comprised of Lakewood residents, both homeowners and tenants, with 8 board members. Each year four Board positions come up for election.
You may ask, "What is it like to be part of the Board of Directors?" Although the purpose of the LCA is to solve community problems of common interest to the residents and property owners of the Lakewood subdivision, it is so much more than just enforcing deed restrictions. Some activities this past year include working with the City to identify and allocate funding for the design and construction of a park for Lakewood, having a Holiday Parade while collecting food donations for Helping Hands, increasing night visibility for the Lakewood Boat Ramp, piloting oyster growing in Burnet Bay, recognizing individuals for the Good Neighbor Award, holding our 3rd Halloween Decorating contest, providing a Welcome Packet to new homeowners, supporting National Night Out, the Lakewood Garden Club, Boat Club and Lakewood Pool, having a clothing drive for local school children, coordinating Community Garage Sales and much more. Many people volunteer with LCA activities and the more volunteers the LCA has, the more that can be done.
The LCA Board typically meets once a month so it's a small investment of time with a potential for big community impact. If you are interested in running for the LCA Board please send in your name, address and phone number by using the 'Contacts' tab on this website. You can also turn in a request to run for the LCA Board through the LCA Facebook site (https://www.facebook.com/LakewoodCivicAssociationBaytownTX/) . Nominations will be open until February 28th.
Thanks!
Lakewood Civic Association
Leave a Comment
more...